Allen & Heath has announced expansion and advanced automatic mic mixing (AMM) capabilities for its SQ digital mixer series.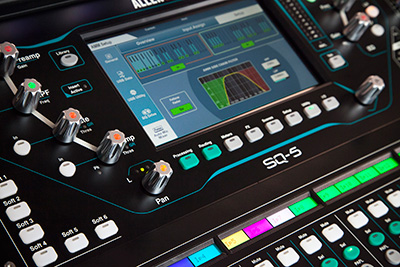 Part of a major firmware update, SQ V1.2 supports the DX Hub, a hardware expansion hub which allows multiple DX168 stagebox expanders to be connected to an SQ mixer. DX Hub enables SQ users to source the full 48 channels from the stage, all at 96kHz, or to deploy up to eight portable expanders when required.
V1.2 also adds two independent AMMs, based on the D-Classic algorithm. The AMMs are part of Allen & Heath's Deep processing system, providing a zero-latency solution for mixing speech applications such as conferences, meetings, broadcast and panel discussions. SQ can handle two simultaneous meetings with up to 24 mics each, or the AMMs can combine to manage a single conference with up to 48 channels.
Other enhancements include a pair of new RackFX units for the SQ FX library – the Noo Phaser and Chorus – plus factory processing libraries to provide a starting point for new users and the ability to change channel colours to speed up engineers' workflows.
'SQ is a superb console for A/V and corporate work, and thanks to the power of our XCVI core and Deep processing, we've been able to add twin, class-leading AMMs without compromising our <0.7ms latency,' says SQ Product Manager, Keith Johnson.
'DX Hub support lets you put the I/O wherever you want it, whether that's getting all inputs from the stage or distributing up to eight 96kHz DX168 expanders around an installation. And probably the most asked-for feature of all is the freedom to assign colours to your channels, which really helps to manage your mix at-a-glance.'
More: www.allen-heath.com