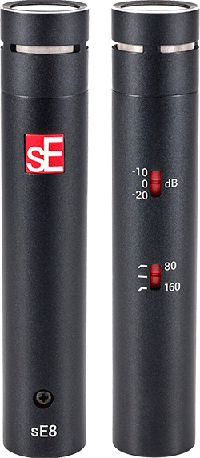 sE Electronics has announced the sE8 small-diaphragm true condenser microphone.
Manufactured by sE in its own capsule room, the mic employs a handcrafted gold-sputtered capsule with a new backplate design that gives 'balanced sound and superior transient response as compared to any other small-capsule condenser of comparable price and beyond'.
'You can apply any shelving filters or peak EQ without harshness, unpleasant colouration or distorted transients – it just stays natural,' says sE Product Manager Thomas Stubics. This is accomplished with an extremely short, efficient signal path and without the use of ICs or transformers, making the sE8 is 'one of the quietest SDC microphones available today – and by far the quietest in its class. Sonically, we feel it can easily be compared with mics that retail for more than $1,000 per pair.'
The sE8 has two low-cut filters (switchable between 80Hz and 160Hz) and two attenuation pads (-10dB or -20dB), which provide it with the highest SPL handling capability and dynamic range in its class. The body is finished with the same new high-quality paint as sE's latest microphones, plus a diamond-cut edge around the capsule, and the XLR connector is gold-plated for loss-free, reliable, and long-lasting use.
The sE8 will ship worldwide in Q3 2017, with a suggested retail price of US$299/€229 EUR (inc VAT). It ships with a newly-designed mic clip, mic stand thread adapter, and protective wind screen.
The sE8 is also available as a matched stereo pair, which comes complete with a precision-machined stereo mounting bar, two mic clips, two wind screens, and a sturdy flight case.
'All matched pairs of sE8s are really matched perfectly – we select them from hundreds of mics to ensure the highest possible consistency,' says Stubics. Matched pairs will also be available worldwide in Q3 2017, with a suggested retail price of US$599/€399 EUR (incl VAT).
More: http://seelectronics.com