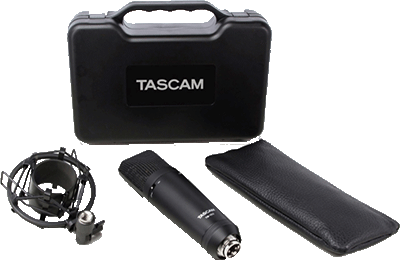 Tascam is expanding has added the TM-180 and TM-280 large-diaphragm cardioid condenser models, TM-60 small-diaphragm condenser, and TM-Drums drum microphone set to its TM-series of microphones.
The TM-180 and TM-280 condenser microphones feature a 1.33-inch (34mm) diaphragm and provide a switchable 80Hz high-pass filter to eliminate unwanted low frequencies. A 10dB pad enables use a high sound-pressure levels-great for use on guitar cabinets, horns and so on. Both mics are suited to recording voice and instruments, although premium components and an integrated pop filter make the TM-280 especially well suited to vocals. In addition, the TM-280 can handle hotter signals (up to 135dB SPL versus 130dB SPL for the TM-180). Both are housed in sturdy cases and come with a shock mount and the TM-180 includes a storage bag.

TM-Drums is a set of four microphones designed to capture a small acoustic drum kit and deliver a balanced, modern sound. The TM-50DB dynamic kick drum microphone offers a frequency response of 50Hz-15kHz, while the TM-50DS snare mic ranges from 50Hz-14kHz. Both have integrated stand mounts. The TM-50DB and TM-50DS are tuned to integrate with the pair of TM-50C small-diaphragm (16mm/0.63-inch) cardioid condenser microphones included for use on cymbals and hi-hat and as overheads. Each TM-50C can handle up to 135dB SPL and comes with a mic clip and foam windscreen. A set of thread adapters are included with the set.
Also new, the TM-60 is a small diaphragm condenser mic offering low noise and a wide frequency response.
Designed for project studios, the TM-AR1 Acoustic Control Filter eliminates reflections and other acoustic artefacts when recording vocals and other acoustic sources. Tascam is also offering the TM-AG1, a classic dual-layer pop filter that mounts to any mic stand.
The TM-series microphones are shipping at anticipated MAP prices of: TM-180 US$149.99; TM 280 US$249.99; TM-Drums US$199.99; TM-60 US$59.99; TM-AR1 US$149.99; and TM-AG1 US$19.99.
More: www.tascam.com