The Aston Starlight is the first laser targeting pencil microphone, allowing recall of mic position in studio use, and quick and easy set up in live applications.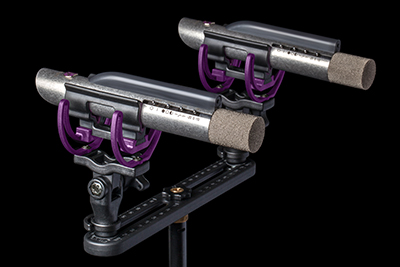 Starlight also uses Aston's variable voice switching for sound contouring, signature sintered head and stainless steel chassis.
The addition of a Class 2 laser to Starlight, with on/off switch, means that mic positions in the studio can be easily replicated, and for touring bands that mic positions can be marked off on drums etc. It also benefits spaced stereo pair placement, as the laser makes it possible to aim both microphones at exactly the same point.
Starlight features a 20mm cardioid capsule and proprietary Voice Switching mode. The gold sputtered capsule feeds bespoke transformer-less electronics designed with low noise and low distortion as priorities. The mic then has three modes of operation using front-end, inductive, active filtering at the input stage of the preamp section (rather than simple post-EQ) to alter the response of the capsule without adding noise to the circuit. Vintage, Modern and Hybrid settings offer alternative tonal response for a full range of applications, and each setting has been tuned to give performance beyond Starlight's price point.
Starlight employs a fine-tuned discrete mic amp circuit with high-spec components, to achieve an extremely sensitive, low noise design with loads of headroom. This allows the mic to handle quiet or very loud sources without compromising noise or tonal performance. The higher output level of the Starlight's output stage allows microphone preamps to operate with lower gain, where their distortion performance is at its best.
Starlight uses a 1.5mm solid stainless steel chassis, tumbled for up to four hours to achieve its 'signature' finish. It will ship pin late February 2017, available as a single mic with mic clip and wind gag, or as a stereo matched pair with two custom Aston Rycote shock mounts, wind gags and a stereo mounting bar. The accessories will also be available to purchase separately.
More: www.astonmics.com