British microphone suspension and windshield specialist Rycote has unveilied a complete microphone mount and vocal pop filter system at this year's Namm show.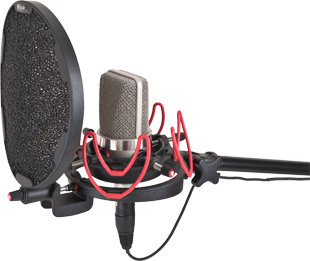 The InVision Studio Kit is a complete suspension and pop filter system that will accomodate almost any large-diaphragm vocal microphone, and also allows mics to be swapped without the need to change the suspension and pop filter at the same time.
Launched last year, the Universal Studio Mount (USM) makes up one of the components of the Studio Kit. The USM is a new type of non-elasticated microphone suspension that will accommodate any large-diaphragm microphone from 18 to 55mm in diameter. The non-elasticated suspension elements of the USM, the patented Rycote Lyres, are claimed to be virtually indestructible and never to sag or need rethreading. More, the USM's Lyre-based suspension provides much better protection from unwanted vibrations than traditional elasticated mounts, decoupling the central mounting ring up to twice as efficiently as 'cat's cradle' suspensions.
The other component in the Studio Kit is completely new and will also be available as a separate product in its own right – the InVision Universal Pop Filter. The pop filter's ergonomic frame is designed for placement near the mouth and face of a vocal artist, and fits a specially manufactured acoustic foam mesh filter, which can be removed for cleaning or replacement (spare foams are available separately). The custom-manufactured mesh is capable of attenuating low-frequency vocal pops and thumps by up to 20dB, and causes no audibly detectable high-frequency loss.
As part of the InVision Studio Kit, the Universal Pop Filter fits snugly onto the outer ring of the USM to make a complete vocal mic suspension and pop filter solution – but equally, it will clamp securely on to virtually any existing mic suspension. This is made possible by its universal screw-based locking clamp, similar to the ones employed in the USM, which can be tightened to provide a fit on bars or tubular supports with a wide range of diameters.
The InVision Studio Kit is now available through Rycote dealers worldwide.
More: www.rycoteinvision.com