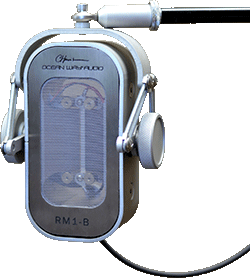 Ocean Way Audio has announced the RM1-B ribbon mic.
Like its predecessor the RM1, the RM1-B was designed for Ocean Way Audio by noted microphone designer Cliff Henricksen principally for use on symphonic recordings and vocals.
Using the same ribbon design as the RM1 – offering matched, ultra-low-noise phantom-powered preamplification, an output level of 36dB and 20Hz to 20kHz frequency response – the RM1-B has a redesigned outer perimeter clad in archival stainless steel, and new knurled cylinder knobs for better hand-torque. The RM1-B's design promises for a more open and detailed response.
Laser-etched graphics with jet-black lettering against the stainless steel deliver a clean, attractive appearance. The mic comes packaged in a waterproof, airtight Pelican case for safe transportation and storage.
'The RM1 is a no-compromise bidirectional ribbon microphone that has all the ribbon mic qualities I admire but with unprecedented low noise and true high-fidelity tone,' Henricksen says. 'This was done as a complete mechanical, acoustical, magnetic and electronic system design. The RM1-B has a variety of refinements, making it easier to use as well as sonically prettier, especially in the upper octave.'
More: http://oceanwayaudio.com