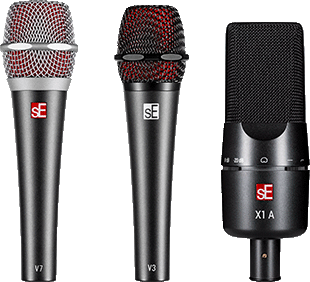 sE Electronics has announced the X1 A, a new entry point to its X1 Series for project studio/home recordists. On the live sound front, sE has also announced a pair of dynamic microphones. The V7 supercardioid dynamic and V3 cardioid dynamic claim 'exceptionally low handling noise, a more natural sound, and higher gain before feedback than other mics in their class'.
The X1 A uses a newly-developed acoustic design with a selected condenser capsule, low-noise electronics, an integrated windscreen and a gold-plated XLR connector. Lke the X1 condenser, it also includes a switchable attenuation pad and low-cut filter, and a robust all-metal chassis.
'This completely new acoustic design delivers an impressively pristine sound that one would expect from a much more expensive product,' says sE Product Manager Thomas Stubics. 'The X1 A delivers not only best-in-class sound quality at its price point, but also convinces with its useful features, high dynamic range, and impressive workmanship.'
Both the V7 and V3 have all-metal housings and beveled spring steel grilles, internal windscreens and patented integrated capsule mounts. The V7 is a supercardioid model with an aluminium voice coil developed for a 'crisp, open vocal sound', while the V3 is a cardioid model intended for general use on any voice or instrument.
The V7 has an MSRP of US$129/€129 and the V3 an MSRP of US$89/€89. Both will begin shipping in Q4 2016, and come with carrying pouch, mic stand clip & thread adapter.
More: www.seelectronics.com