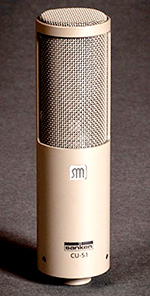 Sanken Microphones has announced the CU-51 cardioid condenser addition to its Chromatic range of professional studio microphones.
The CU-51's dual-capsule design provides an exacting cardioid pattern for vocals and a wide range of musical applications, while its ability to accommodate extremely high SPLs insures clean, distortion-free response when recording instruments with wide dynamics. The mic also exhibits a very low proximity effect.
The CU-51 is able to maintain uniform response in both on-axis and off-axis where previous designs typically exhibit limited high-frequency response. Current methods to remedy this limitation also have compromises, including a varying response with the off-axis angle. The CU-51 is primarily a music microphone, unique to Sanken, and addresses the general desire to limit the sonic changes in position to level only. The tone and response of the CU-51 remains consistent through changes in the axis angle while maintaining the benefits of a large capsule design.
The CU-51's double capsule has one diaphragm optimised for low frequencies while the other captures the higher frequencies. To achieve this overall wide dynamic response, the capsules are individually positioned within the body of the microphone. The PPS (Polyphenylene) membranes are immune to the effects of humidity and temperature change, resulting in consistent response, regardless of the recording environment.
The CU-51's frequency response is truly flat at 90°, essential in maintaining sonic transparency. The microphone claims to consistently deliver a high transient, natural and uncoloured sound with vivid sonic imagery.
More: www.sankenchromatic.com