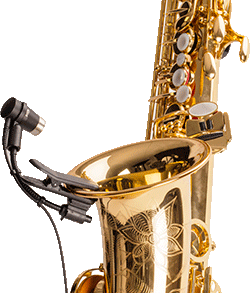 DPA Microphones' has introduced the GSM4000 Gooseneck Shock Mount Accessory and MMP-G Modular Active Cable for MicroDot to its d:dicate Microphone Series, offering both wireless and wired options.
A clip at the end of the GSM4000 mount accommodates the d:dicate capsule and preamp, along with an MMP-G Modular Active Cable for wireless or MMP-E Modular Active Cable for wired operation. With an integrated shock mount, the GSM4000 is available in black, has a length of 11.5cm and allows the microphone to be set up in different positions thanks to the flexible gooseneck.
The MMP-G Modular Active Cable uses active drive impedance balancing to reject induced electrical interference, and enables modular d:dicate capsules to be connected to wireless systems via the MicroDot connector – which works with the wide range of DPA adaptors available for professional wireless systems.
All d:dicate capsules can be mounted on the MMP-G. The MMP-G is available as the MMP-GR, with the cable extending from the rear, and MMP-GS, with the cable extending from the side.
More: www.dpamicrophones.com