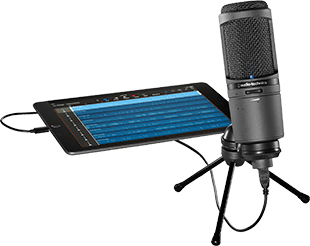 Audio-Technica has released the AT2020USBi Cardioid Condenser USB Microphone, targeting audio capture for iPad, tablets, smartphones PC and compatible devices.
'One of the mic's main applications is podcasting,' says Audio-Technica Marketing Director, Gary Boss. 'You can set up a podcast station with your iPad or other device, and you're good to go. Beyond podcasting, you can use the AT2020USBi to record studio-quality audio on-the-go on a phone, iPad or laptop, or for Skyping, voiceover and other day-to-day audio needs. It's a cardioid directional microphone, so it's going to be a huge upgrade over the onboard omnidirectional microphones generally found standard on these devices. For instance, if you're doing an interview in a noisier environment, it's a life-saver.'
Modelled after the AT2020, this digital-output mic features an A/D converter with a 24-bit/96 kHz sampling rate to deliver high-resolution intelligibility and articulation. It also offers both a standard USB output and Lightning cable connections, and an integrated gain control.
Key features:
· Element: Fixed-charge back-plate, permanently polarised condenser.
· Polar pattern: Cardioid.
· Frequency response: 20Hz-20kHz.
· Power: USB (5V DC); Lightning (3.3V DC).
· Bit depth: 24-bit.
· Sample rate: Up to 96kHz.
· Controls: Mic gain.
· Output connector: Micro-HDMI
· Compatible with Windows 8, Windows 7, Vista, XP, 2000, Mac OS-Xand iOS.
The AT2020USBi is now available with a street price of US$199.00.
More: www.audio-technica.com