Aston Microphones has launched the Aston Custom Rycote Shock Mount.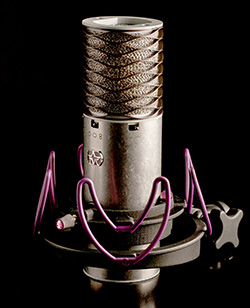 The Aston Rycote Custom is an InVision product, which makes use of Rycote's proprietary vibration-resistant Lyre mount. The W-shaped Lyres are placed around a central mounting ring with a single fixing point specifically design for the Aston Spirit and Origin mics, allowing for incredibly quick and easy mounting. Finished in Aston Microphone's signature colour, this innovative shockmount provides a quick and easy shock mounting solution for all Aston Microphones.
The Aston Rycote Custom updates the concept of the microphone suspension, omitting elasticated parts and using modern materials to create a virtually indestructible shockmount with a performance that far outstrips 'cat's cradle' suspensions. In controlled tests at the Rycote factory, the Custom provided up to twice the isolation of traditional microphone suspension systems.
'We are very proud to have Rycote as our partner,' says Aston Microphones MD, James Young. 'Rycote's technology offers the best performing shockmounts on the market, making it an ideal match for our high-performance mics.'