Lauten Audio has announced the LA-320 professional large-diaphragm vacuum tube studio condenser vocal microphone, its first microphone in the Series Black range.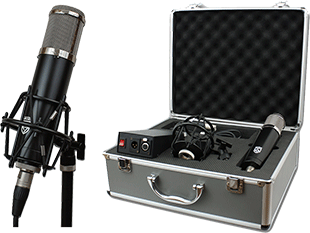 The LA-320 features a 1-inch pressure gradient true-condenser capsule, cardioid polar pattern, dual-triode vacuum tube, transformer balanced output, independent high and low cut filters, custom dedicated power supply, tube microphone cable, spider shock mount and hard case.
'With the LA-320, we are making available a fantastic professional level vacuum tube microphone that's easy for developing recordists to use to make great recordings,' says Lauten Audio founder, Brian Loudenslager. 'The hi- and low-cut filters make solving common problems in home, basement or bedroom recording environments easy.'
The microphone features two independent filters, available with easy to engage switches. 'If the room or source is boomy, or there is low-end rumble from outside noise, turn on the low-cut filter and eliminate much of the problem,' Loudenslager says. 'Or use the hi-cut filter to roll-off frequencies above 12kHz and help tame a bright room with lots of reflections, or a bright source. What makes the LA-320 filter design even more useful is that the engineer can use both filters at the same time, resolving many problems before the recording even hits the hard drive.'
The LA-320 has a suggested manufacturer retail price of US$799 and an estimated street price of around US$499. The new mic will be available in US retailers starting Q2 2016, and worldwide later in the year.
More: www.lautenaudio.com