The AKG Drum Set Concert I professional drum microphone set. The Drum Set Concert I features a collection of seven microphones and accessories in a rugged aluminium carrying case, providing everything needed to mic a complete drum kit, or mic bass and guitar amps, percussion, woodwinds and other instruments.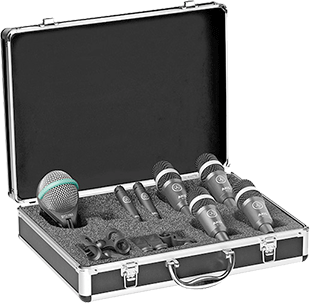 The Drum Set Concert I features the D112 MkII bass drum mic, two compact C430 overhead mics, and four of the popular D40 drum microphones. Each microphone features high maximum SPL handling and rugged metal casing.
The D112 MkII professional dynamic bass drum microphone features a new integrated flexible mount, while retaining the sonic performance, high SPL capability (160dB without distortion), punchy EQ and ruggedness of its predecessor.
Designed for cymbal and overhead miking, the C430 professional condenser microphone delivers clear, crisp sound that often reduces the need for external EQs. Featuring a solid, all-metal body, the D40 professional instrument microphone uses a patented Varimotion diaphragm with a laminated material to damp high resonance peaks. The transducer is protected by a sturdy wire-mesh cap and can withstand extremely high sound pressure levels (up to 156dB). With an integrated stand adapter and included mounting bracket, it's optimised for drums, percussion, wind instruments and guitar amps.
In addition, the Drum Set Concert I features a roadworthy, rugged aluminium carrying case for easy transport and storage, along with all necessary microphone clamps and stand adaptors. It is priced at £629 RRP (ex VAT).
AKG Professional products are distributed in the UK by Sound Technology Ltd.