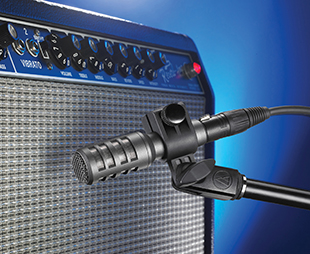 Audio-Technica has announced the AE2300 Dynamic Cardioid Instrument Microphone, featuring a proprietary double-dome diaphragm that promises high-frequency and transient performance 'that far exceeds typical dynamic microphones' for guitar amp, brass and woodwind, and drums and percussion miking.
The AE2300 maintains directionality across the entire frequency range, with little off-axis coloration. Its frequency response is nearly identical at 0°, 90° and 180° for phase cohesion in multiple-mic set-ups. With its rugged, brass metal construction and low-profile design (for unobtrusive placement in a variety of applications) and high SPL handling, the mic is also equipped with a switchable low-pass filter.
The AE2300 ships with AT8471 isolation stand clamp, threaded adapter and soft protective pouch included.
Key features and specs:
· Excels in high-SPL applications.
· Proprietary double-dome diaphragm construction.
· Consisrent directionality across the frequency range.
· Minimal off-axis colouration.
· Switchable low-pass filter.
· Rugged construction.
· Frequency response: 60Hz–20kHz.
· Open circuit sensitivity: -57 (1.4mV) re 1V at 1Pa.
· Impedance: 250Ω.
· Weight: 14.6oz (415g).
· Integral 3-pin XLRM-type connector.
More: www.audio-technica.com