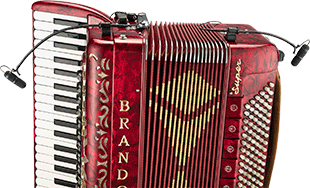 DPA Microphones has augmented its line of d:vote Instrument Microphones with the addition of three new mount options – a Clamp Mount with an especially strong grip, a Microphone Stand Mount and an Accordion Clip. The d:vote line allows one microphone to be used across various classifications of instruments, with a simple switch of the mount.
The d:vote microphone line is designed for use with every woodwind and acoustic instrument, the most popular being guitar, violin, cello and trumpet/saxophone. DPA also offers four different d:vote touring kits in Peli cases, with capacity for of four or ten mic packed in a pencil case with ten or 25 mounts, respectively.
These mounts allow use of mics without the requirement for a different microphone for different instruments. The AC4099 Clip for the Accordion, which can be difficult to mic during recordings and live performance, is mounted directly on the instrument. Typically this requires a minimum of two microphones, with the clip being permanently using screws or temporarily using adhesive.
The SM4099 Stand Mount allows mounting of a d:vote mic on a traditional microphone stand, while the CM4099 Clamp Mount is a clip that is designed as an all-round option that can be used for all kinds of instruments.
'The addition of these new mounting solutions makes it possible for musicians, with even the most unique acoustic instruments, to record or amplify the exact sound of their performance with the renowned d:vote 4099 mic,' says DPA Microphones CEO, Christian Poulsen. 'Miking is often a matter of taste and by expanding the line of d:vote Instrument Microphones we can meet every wish for instrument miking. The d:vote 4099 microphone is the best condenser instrument microphone on the market and we want all musicians to be able to attach it to their instrument or instruments.'
More: www.dpamicrophones.com