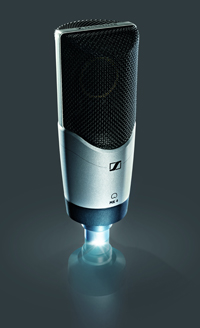 Ready for unveiling at the Namm Show in January, Sennheiser's MK4 is a large-diaphragm, cardioid condenser mic – the German pioneer's first large-diaphragm side-address model.
Developed for project studios, the MK4 is tough enough for use on stage, and is also intended to fit the home recordist's budget. 'We invested every euro in getting the best possible sound and focused on the key elements of a good studio microphone to ensure that we can deliver it an attractive price,' says Product Manager Sebastian Schmitz.
The mic has a 1-inch diaphragm spattered with 24-carat gold. It has a maximum SPL handling of 140dB, and self-noise of 10dB(A). 'The MK4 is highly versatile for vocals, acoustic guitars and grand pianos as well as for strings and wind instruments,' Schmitz says. 'What is more, in numerous field trials it has proven to be an excellent microphone with guitar amplifiers, drums and percussion. To sum up: it is an unpretentious microphone with outstanding sound.'
The MK4 will be available after its Namm release, and comes with a clip and protective pouch. Optional accessories include an elastic suspension, foam windshield and popshield.
More: www.sennheiser.com