Shure has announced the Microflex MX392 Bottom Exit Boundary Microphone.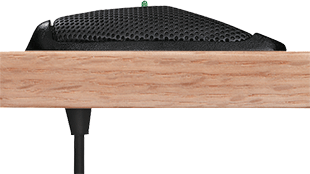 The Microflex MX392BE extends the Microflex range of mics for high-quality audio conferencing, adding a cable exit from beneath the device. This allows the cable to be hidden under the furnishings of conference rooms and boardrooms.
Providing a flat frequency response across the speech range, MX392BE is a surface-mounted condenser microphone that enhances intelligibility in boardrooms and conference rooms. It is equipped with an internal preamplifier and offered in cardioid, omnidirectional and supercardioid variants, all with an attached, unterminated cable designed primarily for mounting on conference tables, stage floors and lecterns.
Key features:
· Bottom exit, condenser boundary microphone.
· Flat frequency response across the speech range.
· Commshield RF filtering.
· Low-profile design for surface mounting.
· Logic input/output for remote control or use with automatic mixers.
· Programmable mute button and LED indicator.
· Interchangeable cartridges indicated by model suffix: C Cardioid/S Supercardioid/O Omnidirectional.
More: www.shure.com