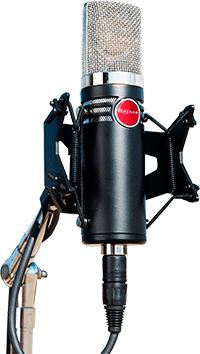 Mojave Audio has released the MA-1000 large-diaphragm, multi-pattern tube condenser microphone – the first model in its Signature Series line.
Designed by David Royer, the MA-1000 features an original new old-stock 5840 tube, a 251-style capsule, and a custom-designed transformer built by Coast Magnetics. Along with a remotely controlled, continuously variable polar pattern selector (located on microphone's power supply) the MA-1000 offers a switchable 15dB pad that facilitates high SPL recordings with no microphone distortion or preamplifier overload and a switchable low-frequency roll-off to counter proximity effect when close miking. The LF roll-off is also useful when miking electric guitars where less low-end build-up is required. The microphone ships with an innovative new shockmount design that was created by and licensed from sibling company Royer Labs.
'The MA-1000 is a versatile, high-end microphone designed specifically to address the most challenging studio recording applications,' says Mojave Audio President, Dusty Wakeman. 'The switchable 15dB pad enables one to address of variety of high SPL challenges while the low frequency roll-off capability makes it a tremendous microphone for both vocals and voiceovers. Cosmetically, as the first offering in Mojave Audio's new Signature Series product line, it represents a step forward from Mojave's traditional designs. I have every confidence this mic will be well-received by engineers and artists from a wide range of musical disciplines.'
The Mojave Audio MA-1000 carries an MSRP of US$2,995.00 and will ship in Q4, 2015.
More: www.mojaveaudio.com