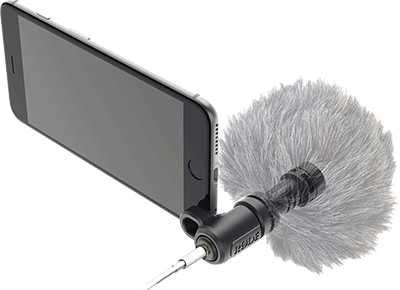 Australian pro-audio manufacturer Røde has announced new microphones, a digital interface, and two boom poles.
Røde's VideoMic family of on-camera microphones has been joined by the VideoMicro, and the VideoMic Me. Measuring 80mm, the VideoMicro is a small, lightweight mic for use on compact cameras. A directional microphone, it reduces peripheral sounds in favour of audio in front of the camera. Its pickup is more forgiving than Rode's other on-camera microphones.
Included with the VideoMicro is a camera shoe with Rycote Lyre shockmount. Featuring a suspension structure composed of a hardwearing thermoplastic, the Lyre is more effective at minimising unwanted vibrations, handling and cable-borne noise than traditional elastic suspensions. Virtually indestructible, it will never sag, snap, wear out or require rethreading to maintain its effectiveness.
The VideoMic Me is a high-quality directional microphone designed for Apple iPhone and iPad. Featuring a TRRS connector and adjustable mount it is compatible with a range of Apple devices and can even accommodate some cases. It features a headphone jack at the rear, to allow for monitoring and playback without removing the mic.
Both microphones include a deluxe furry windshield and feature bodies made from aluminium, giving them a high level of RF rejection. The microphones are finished in Rode's high-grade ceramic anti-glare black coating.
Continuing its mobile audio products, Røde has announced the i-XLR, a digital XLR interface for Apple iOS devices. Used to connect professional XLR microphones to an iPhone or iPad to record audio in the field, the i-XLR allows reporters, correspondents and audio professionals to quickly and easily capture professional interview dialogue to a smartphone or tablet.
An intuitive record button provides the user with operation without accessing the mobile device, and an LED indicates the recording status (in supporting apps). A headphone jack with variable level is conveniently located on the body to allow the operator to monitor their audio during interviews, and for dynamic microphones the i-XLR features a +20dB level boost, giving these microphones a high level of clean gain.
To accompany the i-XLR, Røde has updated its Røde Rec recording app that supports remote functionality for the new interface, as well as a set of EQ presets for industry-standard interview microphones, that optimise the audio for consistency across recordings, as well as an optional 'safety track' that can be set at a lower level.
The RødeLink digital wireless system has been making waves since its release earlier this year. Currently available as the Filmmaker Kit, including a camera mounted receiver (RX-Cam), beltpack transmitter (TX-Belt) and broadcast-grade lavalier microphone, its 2.4GHz digital communication technology allows for robust, secure transmission of audio at ranges up to 100m.

The VideoMicro is shipping now, and the VideoMic Me and i-XLR will be available Q4 2015
More: www.rode.com