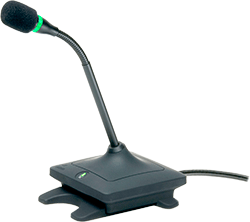 Adding gooseneck microphones to its line of Elite wired microphones, Revolabs is targeting conference rooms and boardrooms. In addition, the full line of wired microphones is now available with mute function and status LEDs.
'The new gooseneck models now deliver functions identical to our wireless models,' says Senior Product Manager, Holger Stoltze. 'The product family provides more flexibility by making it possible to use the same user interface and continuity of design within mixed set-ups, where both wired and wireless microphones are being used – increasing configuration options while ensuring a more seamless conferencing experience.'
Available in 6- and 12 inch heights, the goosenecks come in the same colours (black, white, and brushed nickel) as the company's directional and omnidirectional wired microphones. It is now possible to have the same user interface in rooms with wireless microphones and rooms where budget limitations call for wired microphones while keeping the look and functionality of the microphones the same. Compatible with any universal microphone input connection, the microphones allow users to connect instantly to today's wide array of conference room appliances.
The Elite wired gooseneck microphones and updated tabletop microphones will begin shipping in Q2 2015.
More: www.revolabs.com