Earthworks has made improvements to its FlexMic Series of podium microphones.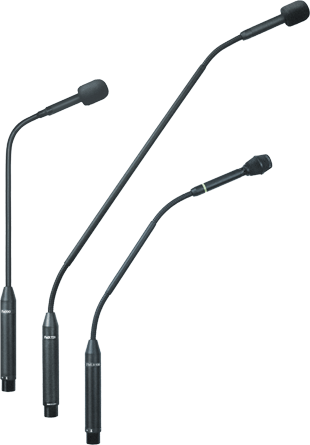 The redesigned FM Series offers six models with flexible goosenecks in three lengths, and the choice of cardioid or hypercardioid polar patterns. The FMR Series includes four models in two lengths, with goosenecks that have a rigid center and flex at both ends – again, available in cardioid or hypercardioid. The FMLR Series mics also have a rigid centre and flex at both ends in addition to a light ring to indicate the microphone's on/off status and are available in cardioid or hypercardioid models.
FlexMics offer uniform frequency response at 0° on-axis, as well as at 45° and 90° off-axis. The smooth off-axis response and high rejection from the rear of the microphone provides high gain before feedback. The RFI performance of the redesigned microphones is the result of new, proprietary Freedom circuitry, which is designed to provide complete isolation from radio frequency interference. The improved FlexMic Series has a frequency response that extends from 50Hz to beyond 20kHz (+2dB @ 6 inches).
'Our improved FlexMic Series was recently deployed as part of a substantial facility overhaul at the Louisiana State Capital,' says Michael Hurwitz, Earthworks National Sales Manager. 'Whether it's a boardroom, a lecture hall, a church or a similar environment, the FlexMics offer clarity and dynamic range that enables speakers to sound natural and be clearly understood. Combined with our RFI Freedom circuitry and comprehensive range of gooseneck lengths and types, I'm confident sound system integrators will find the perfect microphone for every installed sound project they encounter.'
More: www.earthworksaudio.com