Chameleon Labs has released the TS-1 MKII small-diaphragm tube condenser microphone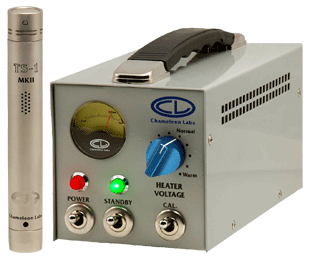 Driven by newly-designed vacuum tube electronics, the TS-1 MKII uses a plate-loaded, triode-strapped, pentode design with an American-made MIL-Spec 5840 NOS tube. The gold-sputtered, three-micron capsule conveys without distortion to 130dB. Frequency responses are ±4dB from 30Hz (omni), 70Hz (cardioid), and 80Hz (hyper-cardioid) to 20kHz. Also included with the TS-1 MKII are a shock mount, 25-foot seven-pin microphone cable, windscreen, aluminum carrying case, and one-year warranty.
The power supply features an adjustable tube heater voltage control that enables a range of sonic textures by allowing the tube to be starved or overdriven.
The MKII package ships with omni and cardioid capsules. Also available are a hyper-cardioid, a large-diaphragm capsule (selectable omni or cardioid), or the ADP-1 adapter which accommodates AKG CK series heads, along with a range of capsules from other manufacturers that conform to the CK series standards.
'A huge amount of research and development went into making the TS-1 MKII compete with the very best products in and above its class at a price that's easy to commit to,' says Tim Stiles, Marketing, Sales and Support Director for Chameleon Labs. 'It offers accurate, pickup for acoustic guitar and cymbals, but with its tube implementation, it also avoids the overly bright sound of solid-state small diaphragm mics, making it useful for strings, percussion, wind instruments, electric guitar and vocals.'
More: www.chameleonlabs.com