British microphone manufacturer Sontronics has released the Sonora 2 dual-channel solid-state preamplifier/DI, alongside two all-in-one recording packages for studios and recording musicians.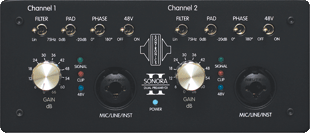 Sonora 2 features Sontronics' proprietary class-A circuit design and offers two combined XLR/quarter-inch jack inputs plus four individual outputs (two XLR, two TRS jack) as well as a –20dB pad, 75Hz high-pass filter, 180° phase reverse switch and 48V phantom power on each channel. It provides up to 66dB gain and +23dBu of headroom.
'Sonora 2 represents two years of sheer hard work and dedication and I'm so proud of the fact that we've done it all, from the circuitry right up to the packaging, here in the UK,' says Sontronics' founder, designer and MD, Trevor Coley. 'Sonora 2 has the build quality and attention to detail you'd expect from Sontronics as well as its own signature smooth sound. It really will let you hear more of what actually matters.'
The Sontronics all-in-one mic packs are intended for 'anyone wanting to start recording straight away'. The STC-20 PACK (£209 RRP) includes Sontronics' STC-20 large-diaphragm cardioid condenser mic with gold-sputtered 1-inch capsule. The STC-3X PACK (£305 RRP) includes the STC-3X condenser mic with three polar patterns – cardioid, omni and figure-of-eight – plus a pad (0, -10, -20dB) and high-pass filter (linear, 75Hz, 150Hz). Both packs include a spider-style shockmount with two spare elastics, nylon-mesh popshield, 5m XLR cable and zip-up mic pouch.
More: www.sontronics.com