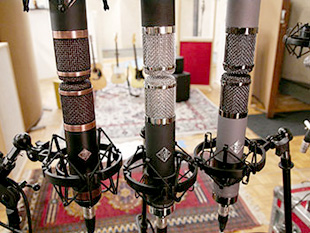 Telefunken Elektroakustik has announced matched stereo sets from its 'popular and affordable' R-F-T series of large-diaphragm vintage tube microphones.
Now available in matched stereo sets, the AR-51, AK-47MkII and CU-29 microphone systems feature a custom dual power supply capable of powering both microphones, as well as a locking flightcase that contains microphones, cables, shock mounts, and wooden mic boxes. All electronic components are matched sonically and electronically, including capsules, transformers and valves.
AR-51 Stereo Set
The R-F-T AR-51 was designed to incorporate the amplifier circuit of the C12 and ELA M 251E into a more affordable package than its Diamond Series counterparts. Telefunken Elektroakustik has taken this, and developed the AR-51 Stereo Set resulting in a 'vintage sounding' microphone with a smooth mid-range, open top end and a solid, well-balanced low frequency translation.
The AR-51's character is suited to applications from vocals and drums to acoustic guitar and saxophone. A matched pair of mics can be used on drum overheads, acoustic guitars, piano and percussion, as well as larger sources such as orchestras, choirs and large chamber groups.
AK-47 MkII Stereo Set
The R-F-T AK-47 MkII intends to incorporate key elements of classic circuits such as the U47 and M49, producing a 'rich and warm' low-mid frequency response suited to vocals, bass (acoustic and electric), brass instruments and drums. With these applications in mind, Telefunken Elektroakustik has developed the AK-47 MkII Stereo Set.
CU-29 Copperhead Stereo Set
Since its introduction, the R-F-T CU-29 Copperhead has found use equally on vocals, acoustic instruments, guitar amps and drums. The amplifier in the CU-29 Copperhead features a new old stock Telefunken 6AK5W valve, Lundahl LL1935 output transformer and a single-membrane version of the large-diaphragm capsule used in the AR-51 and AK-47 MkII.
Sonically, the CU-29 Copperhead is a hi-fidelity microphone with a 'present but not harsh' character providing 'a warm, clear low end complemented by a smooth high end, with a delicate and intimate air'.
More: www.t-funk.com