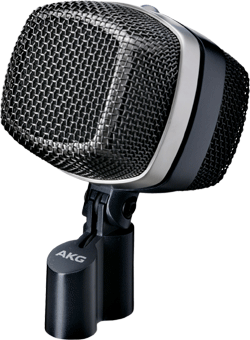 Introduced in 1953, AKG's D12 was the world's first dynamic cardioid microphone, and became an essential part of sound for television and radio around the world. Having been followed by the D112 – one of the most popular kick drum microphones around – AKG has now introduced the newly designed D12 VR large-diaphragm cardioid microphone for kick drum recording and live applications.
D12 VR (vintage sound re-issue) uses a thin diaphragm in a newly designed capsule. With phantom power disabled, the D12 claims 'accurate, pure character' while phantom power brings three switchable active-filter presets into play.
The vintage-style microphone offers three active sound shapes for recording – open kick drum, closed kick drum and vintage sound. D12 is manufactured with the original AKG C414 transformer from the 1970s. Internally, AKG's dynamic microphones process frequencies within the filter circuit and connect the audio signal in the mic's transformer. The impedance differences between the mic and tandem audio equipment are cancelled out, enabling the unit to showcase the ultimate sound, regardless of its connected device.
'With the reputation AKG's D12 brought to the recording and broadcast industry, the D12 VR embodies its predecessor with the quality and reliability AKG has been providing the audio industry for 65 years,' says Thomas Umbauer, Product Manager, PPA at AKG. 'The relaunched D12 VR will give tracked drums a vintage, yet crisp and modern sound, sure to make percussion tracks shine for professionals or casual artists around the world.'
More: www.akg.com