Based on its Micros series of integrated miniature condenser microphones, Audix has developed three high-performance ceiling microphones for the installation market.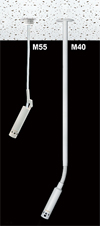 The M40, M55 and M70 feature high-output, RF immunity, directivity, integrated low noise circuits, Plenum-rated junction box, Phoenix connectors and easy installation.
Designed to capture and reproduce voice from an overhead ceiling height of eight to ten feet, the M40, M55 and M70 promise high sound quality while minimizing room noise and ambient sound. All models run on phantom power requirements of 18V-52V and have complete immunity from RF caused by cell phones and other GSM devices.
The M40 is a hanging style microphone with clean lines and a flexible steel gooseneck which allows for directivity and positioning. Available in stock white finish and 6-inch and 12-inch lengths, the M40 features a modular capsule design with choice of cardioid, hypercardioid and supercardioid (shotgun) polar patterns.
The M40 is easy to install, only requiring onlt a hole to be drilled, while the rest of the installation needs no additional tools. The threaded barrel of the M40 fits through the hole and is tightened with the bolt provided. The cable is terminated with a Phoenix connector and the mating connector is also provided to complete the cable path of the audio.
The M55, a hanging microphone based on the M1255, features an integrated cable receptacle designed to angle the microphone in the required position. The cable length can be easily adjusted via an innovative strain relief located just below the ceiling, stabilising the cable from rotating once the desired position is achieved. As the microphone preamp circuitry is integrated into the body of the microphone, no external phantom power adapter is needed, as is usually the case for microphones of this size. The M55 is available in black or white with a variety of four different capsules and polar patterns.
The companion M70 offers a flush mount solution allowing the microphone to completely disappear from view. With a very high sensitivity rating of 38mV, the M70 capsule is housed within a proprietary machined mechanism that enables the microphone to be aimed and focused up to an angle of 45° from the source. The M70 terminates in a Phoenix connector and is easy to install, only requiring a 2-inch hole to be drilled for installation, while no other additional tools are needed. The M70 is available in stock white finish and satin nickel.
List prices for the M40, M55 and M70 are US$375, US$450 and US$490 respectively for the base models.
More: www.audixusa.com