Building on the 4099 instrument clip mic series, DPA Microphones' d:vote has a new shock mount and an upgraded cable (available in heavy duty 2.2mm and 1.55mm diameter versions), which can be detached from the end of the gooseneck. Offering further flexibility is an extension unit for the gooseneck supplied with the mic, which extends its length by 50 per cent.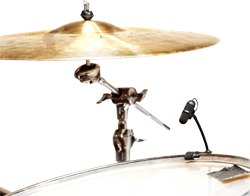 DPA's 4099 series has been taken up by artists including Sting, Randy Brecker, Wayne Shorter and Bobby Ricketts, as well as becoming established among gigging musicians around the world.
'After a long introduction the 4099s have more than tripled the amount of microphones sold in the last two years and the curve is only going up,' says DPA CEO, Christian Poulsen. 'We have listened to what our users want, and the new improvements make it even more durable and less sensitive to handling noise. The new extension unit brings maximum to demanding applications, achieving just the right sound from the instrument.'
d:vote condenser mics feature supercardioid polar patterns for uniform off-axis frequency response and high gain-before-feedback.
Despite being small, discreet and lightweight, d:vote is rugged and stable, while the versatile and extendable gooseneck provides stable positioning. The mics can easily be unclipped and repositioned or moved to another instrument with one hand. d:vote's microphone mounting system is designed to be extremely gentle, never marring the finish of an instrument.
The MicroDot connector and more than 35 DPA adapters ensure compatibility with almost any wireless system, and the can also be used as a standard 48V phantom powered microphone via its supplied XLR connector.
More: www.dpamicrophones.com