Audio-Technica has announced the availability of matched pairs of its AT2031 and 4021 condenser mics.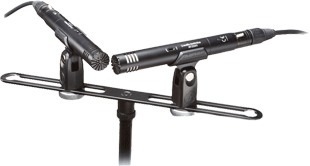 With a 20Hz to 20kHz frequency response and 150Hz low-frequency roll-off, Audio-Technica's AT2031 cardioid condenser microphone is optimised for recording violin, cello, acoustic guitar and piano – and is now available in paired sets. With a slight lift in higher frequencies and its broad frequency response the small-diaphragm mic is well suited to a detailed responseof the AT2031. Its high SPL handling and low self-noise ensure wide dynamic range, essential to critical studio and live situations.
In matching pairs of AT4021s, three testing stages are employed to check sensitivity and frequency response (by referencing 1,000 frequency points). The result is a pair of microphones that share virtually identical frequency curves. The AT4021P matched pairs are supplied in a boxed set including a stereo bar, windscreens and stand clamps, along with a curves diagram and a document outlining the testing procedure.
The AT2031P paired set includes a stereo bar, windscreens and stand clamps, anfd carries a UK/Europe recommended retail price of £299 (inc VAT)/€299 (ex VAT).
The AT4021P matched set has a UK/Europe retail price of £749 (inc VAT)/€749 (ex VAT).
More: www.audio-technica.com