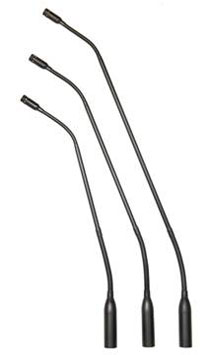 Designed for podium, presentation, meetings and teleconferencing applications, the MG12/15/18 professional miniature gooseneck condenser microphones have followed the company's Micros series. Providing a frequency response of 60Hz to 19kHz, they provide 'natural sound with exceptional transient response'.
The MG gooseneck system is uses a dual preamp circuitry, with one circuit located in the capsule housing for condenser operation and the preamp circuit built into the base of the XLR. This circuitry is internally balanced, ensuring that the audio path is protected from hum and noise. In addition, the circuitry employs immunity protection from RF from cell phones and wireless GSM devices.
Designed, assembled, and tested by Audix in the US to tight tolerances, the MG12/15/18 are available in cardioid and hypercardioid polar patterns. Other features include machined brass capsule housings and fittings, copper tubing integrated with wound flexible steel for secure and exact placement, field replaceable capsules, replaceable electronics, and a variety of optional accessories. The MG12/15/18 operate on 18/52V phantom power and are available in non-reflective black matte finish.
More: www.audixusa.com