DPA Microphones has introduced an enhanced, dual-ear headset for the DPA d:fine directional and omnidirectional headset microphones.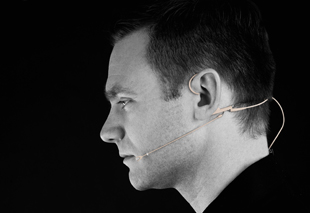 Aimed at live theatre, music video production and concert sound applications, the d:fine series dual-ear headset mic is designed to handle the most rigorous and energetic performance applications. The headset is available in three sizes.
'When we first introduced the d:fine headset microphones series to the live sound market, it was embraced by the industry as a condenser headset that could provide exceptional sound quality in the most challenging acoustic environments with a wonderfully simple and secure single-ear mount,' says Jarrod Renaud, Sales & Marketing for DPA Microphones, Inc. 'With our new dual-ear headset – which is available in sizes to fit everyone from a ten-year old performer to an adult musician – end-users can rely on d:fine to stay in place, bringing uninterrupted performance excitement to the audience for live sound and video projects that might include extreme dance and hip-hop segments, for example.'
In a world that is increasingly video-orientated, from live action reality TV and theatre presentations to sporting events and bands producing videos for YouTube, the dual-ear headset promises 'worry-free performance in the most exacting situations'. While the d:fine capsule delivers a frequency range of 20Hz to 20kHz (±2dB) and a maximum peak handling of 144dB before clipping, the dual-ear headset ensures that the mics stay in place. Additionally, as the microphone isn't hard-wired into the headset, the cable can be replaced easily and inexpensively. All d:fine models come in beige, brown, black and a fancy lime colour and have a low visibility profile.
'With the advent of the d:fine headset microphone, the serious band or performing group can now have an ultra-professional headworn microphone within reach to bring their performance to the next level,' Renaud adds. 'With the new dual-ear headset option, the same performers can reliably add increased athletics and dance moves, assured the show or presentation will run smoothly.'
More: www.dpamicrophones.com