Audio-Technica has released the AT2005USB Cardioid Dynamic USB/XLR microphone.
Intended for recording instruments and vocals, this handheld dynamic microphone has both USB and XLR connections, enabling use with a computer or PA system.
A durable metal construction provides long-lasting performance. Its low-mass diaphragm and smooth, extended frequency response make the microphone suited to podcasting, home studio recording, field recording, voiceover and live performance.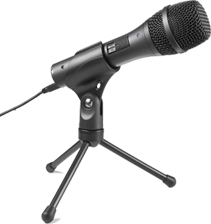 Specifications:
· Element: Dynamic
· Polar Pattern: Cardioid
· Frequency Response: 50Hz-15kHz
· Power Requirements: USB (5V DC)
· Resolution: 16-bit
· Sample Rate: 44.1kHz/48kHz
· Controls: On/off switch; headphone volume control
· Weight: 9.5oz (268g)
· Output Connector: USB-type and XLR-type
· Headphone Output Power: 10mW/16Ω
· Headphone Jack: 3.5mm TRS (stereo)


The AT2005USB features a headphone output with volume control that allows monitoring of the audio signal directly from the microphone.
USB operation is compatible with both Windows- and Mac-based hardware and software. Its cardioid polar pattern reduces pickup of unwanted sounds from the sides and rear, improving isolation of the user's desired sound source.
The mic comes with USB and XLR-to-XLR cables; a tripod desk stand with folding legs for secure and easily portable tabletop use; and a threaded mic stand clamp, that attaches securely to the supplied tripod or to a conventional microphone stand.
It will be available March 2012 with a US MSRP of US$149.
Blue Microphones Spark Digital
Blue Microphones USB Tiki
More: www.audio-technica.com