Claiming to be the world's first studio-grade condenser microphone to offer both USB and iPad connectivity, Blue Microphones has announced Spark Digital.
'Spark Digital is the first studio microphone for the iPad,' says company CTO, Brian Biggott. 'With both USB and iPad connections and a wide range of available recording apps, Spark Digital is the missing link for achieving truly professional results on the mobile platform. Bridging the gap between analogue quality and digital portability, Spark Digital completes the true mobile studio.'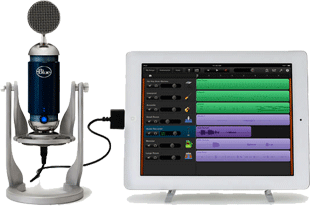 The mic features the same condenser capsule and hand-tuned components as its analogue counterpart for recording vocals, drums, guitars, piano and speech, as well as location recording.
In addition, Spark Digital features professional studio capabilities including a zero-latency headphone out for direct monitoring, volume and gain control and instant mute.
Following its analogue predecessor, Spark Digital offers a Focus control, providing alternative sonic options. Focus Off has enhanced low-frequency sensitivity while Focus On promises 'a tighter, more focused sound'. For the recording novice, the Focus control provides the freedom to experiment with different sonic signatures in one mic, while providing the experienced recordist with options.
Spark Digital comes with a proprietary angle-adjustable desk stand with built-in shockmount. For each platform connection (USB and iPad), Spark Digital includes a Y-cable with an attached, extended female headphone jack for direct monitoring. Spark Digital is plug-and-play with driverless installation on iPad, iPad 2 and both PC and Mac.
For storing and sharing, Spark Digital also includes the Cloud Production Bundle, with free access to production tools for organising, storing and streaming of audio content across the web. The bundle includes a 25Gb storage and transfer account for six months from Gobbler, along with a six month Pro Account from SoundCloud.
Blue Microphones USB Tiki