Blue Microphones claims its Tiki to be 'the world's first USB microphone that mimics the intelligence of human hearing by focusing on desired sounds, minimising background noise and knowing when to mute altogether'.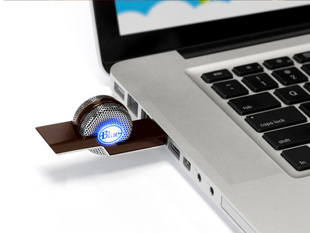 Released at the 2012 CES show, Tiki uses noise-cancelling technology, Voice Isolation and Intelligent Mute, to improve communication intelligibility.
'Designed to mimic human hearing, Tiki brings the conversation into focus and attenuates distracting background noise, like the human ear does naturally in conversations,' says, Blue Microphones CTO, Brian Biggott. 'Being a microphone from Blue, Tiki is also designed to deliver professional-quality audio for impromptu vocal tracks or instrument recording. Whether you're on a conference call or recording guitar, you can now achieve crystal clear audio wherever you go.'
Tiki can be switched between Intelligent Speech Mode for communication and Natural Recording Mode for recording vocals, instruments or podcasts. Similar in size to a standard USB flash drive, Tiki's portable, cable-free design allows it to plug directly into your laptop's USB port.
Key to the mic's operation is the use of front-and-back facing microphones. For conference calls and conversation, Tiki's Intelligent Speech Mode uses Voice Isolation to emphasise voice while noise-canceling technology simultaneously minimises unwanted, competing background noise.
Tiki's Intelligent Speech Mode also includes Intelligent Mute which automatically soft-mutes the mic when no speech is detected. Not limited to speech and VOIP, Tiki's Natural Recording Mode is aimed at sources from vocals and acoustic guitar to location recording.
Tiki's cable-free design allows for direct connection to a USB port, while an included docking cable provides extended connection where necessary. For portable protection, the packaging doubles as a compact carrying case. With all processing performed onboard, Tiki requires no drivers and is plug-and-play with both PC and Mac.
Blue Microphones Spark Digital
More: www.bluemic.com/tiki