Audix has announced the FP Quad drum mic pack for club, rehearsal, school, house of worship,and home recording – a cost effective alternative to the DP Quad drum mic pack introduced in 2011.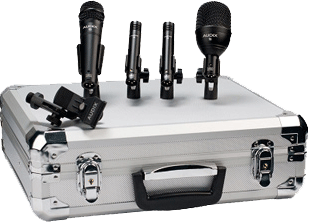 The FP Quad drum mic pack includes the F6 dynamic microphone for kick drum, F5 dynamic mic for snare drum and two F9 condensers for overhead applications.
The F5 and F6 are high SPL dynamic microphones that are well suited to close miking and for capturing the attack and percussive sound of the drums. 'The F5 mic reinforces the depth and snap of the snare while the F6 mic delivers earthshaking lows through each strike of the kick drum' the company says.
The F9 pre-polarised, condenser microphone with its 14mm gold sputtered diaphragm, is intendedfor overhead applications. Depending upon the position, the F9 will pick up te hi-hats, tom fills, cymbals and ambiance of the entire drum kit.
Audix has also made a demonstration video for the FP Quad. This illustrates precise set-up requirements for individual mics, along with examples of the four mics being used for live and recording applications. The video is available at the Audix website, and underlines the significance of drummers maintaining control of their sound.
The FP Quad drum pack includes a stand adapter for each mic as well as a DFlex rim-mount clip for use with the F5 on snare drum. Packaged in a heavy duty, aluminum carrying case, the FP Quad pack is available through Audix dealers at a US list price of $525.
More: www.audixusa.com