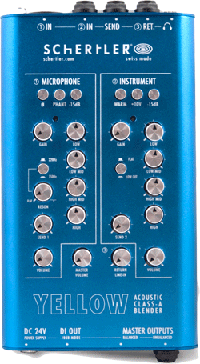 Swiss acoustic amplification systems manufacturer Schertler has released Yellow Blender, the latest addition to its range of high-quality preamplifiers.
Featuring class-A electronics and a user-friendly interface, Yellow has been developed 'to take both the quality and performance of Schertler's previous Pre-A series preamps to a new level, with every section engineered to ensure maximum potential from any kind of sound source'.
Yellow Blender provides a maximum of three input channel options for connecting a range of microphones, pick-ups and other sources, plus four balanced/unbalanced output options for connecting to active loudspeakers, mixers, headphones and recording devices. The two main microphone and instrument channels include four-band EQ. The unit's send and return sockets can be used for an effects loop.
Yellow's lightweight yet robust aluminium housing has also been designed to withstand regular live use.
Available now, Yellow Blender retails at £650 (inc VAT) and is exclusively distributed in the UK and Eire by Systems Workshop Distribution.
More: www.schertler.com
More: www.systemsworkshop.com