Microphone windshield and shockmount systems speacialist Rycote will launch a new version of its InVision Universal Studio Mount microphone suspension at the 2012 Winter NAMM show.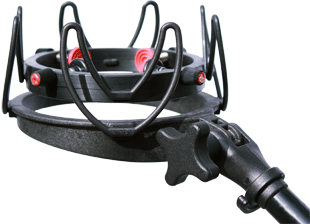 The existing InVision USM can be used to mount microphones from 18mm to 55mm in diameter and accommodates most studio recording microphones, but the InVision VB will hold the broadest large-diaphragm models from 55mm to 68mm, such as the Neumann M149 and M150, the Studio Electronics Gemini 5 and G3500, the Rode Classic II, and the Blue Microphones Kiwi and Mouse, as well as design classics like the original Neumann U47.
The InVision VB offers the same design as the original InVision USM, based on Rycote's patented and 'virtually indestructible' W-shaped Lyre mounts, and provides the same protection from unwanted vibrations as the original InVision USM, reducing noise further by up to 12dB when compared to traditional elasticated mounts. Most microphones can be mounted in seconds or removed thanks to the USM's smartly designed universal four-screw locking system.
'With the addition of the USM VB to the InVision range, there's now a USM for almost every microphone,' says Rycote Sales & Marketing Director, Stefano Pucello. 'The original USM, launched at Winter NAMM two years ago, has been very successful, and studio owners who bought them began asking us if there was a even broader version for their favourite super-large-diaphragm mics. And now there is.'
The InVision USM VB is shipping now, priced at £76.55 (inc VAT)/US$119.99. Pricing has yet to be determined. The USM VB will also be available in the Rycote Studio Kit, combining the wider diameter of the USM VB with Rycote's pop filter to create the vocal recording solution for the broadest large-diaphragm microphones.
The VB version of the Studio Kit will retail at £95 (inc VAT)/US$149.99.
More: www.rycoteinvision.com