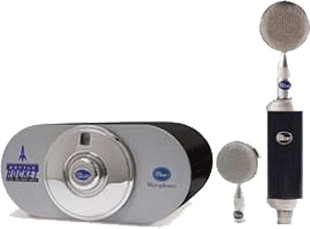 Blue Microphones is now packaging a second capsule with its Bottle Rocket Stage Two tube microphone, in addition to the primary B8 capsule.
The Bottle Rocket Stage Two offers Blue's vacuum tube microphone with an interchangeable bayonet-mount capsule system, and now with a 'bonus' capsule in addition to the B8 capsule.
Part of Blue's Interchangeable Capsule Series, the Stage Two uses a single hand-selected ECC88 vacuum tube and transformerless class-A discrete tube amplifier circuit to deliver low noise and fast transient response. The Interchangeable Capsule Series also includes the flagship Bottle mic and the Bottle Rocket Stage One solid-state microphone.

The series integrates the best of Blue's discrete class-A circuitry with stand-alone system of interchangeable capsules, providing a wide range of sonic characteristics in a single microphone setup.
Like the Bottle, the Stage Two has the ability to use nine interchangeable capsules – The Bottle Caps – each offering a different tonal characteristic and pick-up pattern suited to use on sources vocals to bass, and wind instruments to horns.