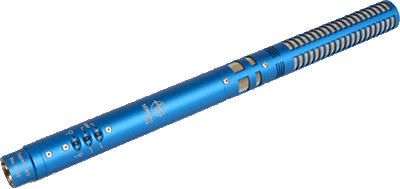 The SuperCMIT digital shotgun microphone from German mic specialist Schoeps has broadcast, sport and film sound applications in its sights.
Claiming 'an innovative principle of operation and defines a completely new category of directional microphone', the SuperCMIT design is intended to provide greater directivity than conventional shotgun microphones, as well as the ability to suppress pickup of diffuse sound. Using the same interference tube design found in the CMIT 5, it adds a second microphone capsule with the two signals processed by a new DSP algorithm developed by Swiss company Illusonic. This separates discrete sources from diffuse sound energy, allowing the suppression of ambient sounds such as street noise, rustling leaves, wind noise, crowd noise or room reverberation. The pick-up pattern is consistently narrow at high frequencies and low-to-mid frequencies.
An AES42 digital output (AES3 with digital phantom powering) provides two channels that can be used simultaneously. Channel 1 carries the DSP-processed signal, while the second channel carries the unprocessed output of the forward-facing capsule (equivalent to the Schoeps CMIT shotgun microphone). An optional PSD 2U-high power unit is also available, so that the mic can be connected to AES3 digital inputs without phantom power.
More: www.schoeps.de/SuperCMIT