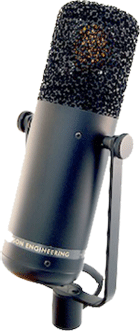 Josephson Engineering has extended its Series Seven microphone line with the introduction of the C716.
A large-diapgragm cardioid microphone intended for studio recording of vocals and instruments, the C716 capsule has dual symmetrical gold metallised polyester 5-micron diaphragms.
The electronics use true balanced discrete class-A topology, with transformerless output for direct coupling to the micr preamplifier. The internal optically-isolated power supply generates capsule polarisation voltage from phantom power without the use of switchers or oscillators.
The grille is of hard aluminum foam without bars, rings or other solid internal structure to eliminate internal reflections. The company claims that this 'provides rugged protection and electrical shielding for the capsule while allowing direct access for sound'.
The C716 features an adpatation of the capsule used in the company's limited production 20th anniversary C720 model.
More: www.josephson.com