Audio-Technica has launched the AT2040USB Hypercardioid Dynamic USB Microphone, the latest addition to the company's 20 Series content creation products.
The AT2040USB combines the broadcast-quality performance of the AT2040 dynamic mic with plug-and-play USB Type-C functionality for podcasters, streamers and content creators. The microphone connects directly to the user's computer without the need for an audio interface or additional cabling.
The mic has an internal high-resolution A/D converter supporting up to 96kHz, 24-bit audio resolution, and its highly directional, hypercardioid pickup pattern isolates the user's voice from surrounding noise.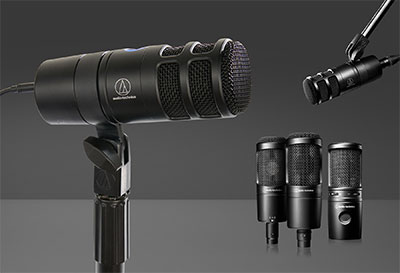 Gamers who stream and chat with followers will appreciate the isolation from common ambient noise, such as the hum of a computer fan.
The microphone's robust metal body includes an integrated shockmount to attenuate noise and vibration, while its internal pop filter (a multistage foam mesh windscreen) protects against harsh spoken sounds. Additionally, a low-cut filter eliminates vibration and surrounding environmental noise.
The AT2040USB is also equipped with a headphone jack to enable real-time monitoring of the audio (with zero latency), as well as a soft-touch mute button for quick muting at the mic. A mix control adjusts the balance between the microphone audio and a computer sound source. A two-state LED indicator ring lights blue when the mic is powered on and ready to capture audio and lights red when it is muted.
The AT2040USB comes with a USB cable (USB Type-C to USB Type-A) and USB adapter (USB Type-A to USB Type-C). Sold separately, the AT8458a shockmount can also be used with the microphone to further reduce noise, shock and vibration that might be transmitted through a mic stand, boom or mount.
More: www.audio-technica.com