Røde has announced the NT1 5th Generation studio condenser microphone, the successor to its NT1 launched in 1991 as the company's debut mic.
Since its release, the microphone has seen multiple transformations, including the NT1-A and fourth-generation NT1. The NT1 5th Generation is the most significant evolution to date, updating its technology and using Røde's Dual Connect output, an 'unclippable' 32-bit float digital output, and advanced digital signal processing.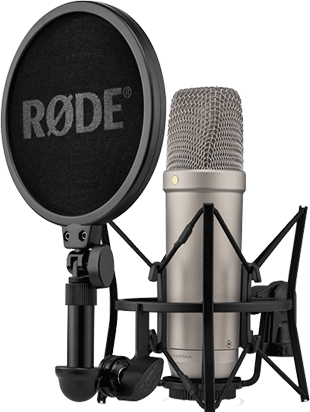 'Countless musicians, podcasters, streamers, broadcasters and content creators consider it their go-to microphone,' says Røde CEO, Damien Wilson. 'The NT1 5th Generation is unlike any studio mic out there, but it hasn't lost its charm and is sure to continue inspiring creators for decades to come.'
The NT1 5th Generation features Røde's HF6 capsule, introduced in the fourth generation NT1. It has a tight cardioid polar pattern, smooth frequency response and high sensitivity, equally suited to vocals and speech as to acoustic and electric guitar, drums and percussion and piano. Enhanced circuitry now delivers 4dBA of self-noise, claiming it to be the world's quietest studio condenser microphone.
The Dual Connect output offers both XLR and USB connectivity in the same housing. This allows users to connect to an audio interface, mixer, console or other audio equipment via XLR for a traditional analogue workflow or via USB for plug-and-play digital recording.
When using the analogue output, the NT1 5th Generation delivers the same tone and performance of the NT1. When using the digital output, these characteristics are maintained, with the added convenience and versatility of USB connectivity.
The NT1 5th Generation also reckons to be the world's first microphone to feature a 32-bit float digital output. This handles the full dynamic range of the microphone while allowing users recording in a DAW to adjust their audio to the optimal level after recording.
Also part of the package are Røde's ultra-low-noise, high-gain Revolution Preamp and ultra-high-resolution analogue-to-digital conversion (up to 192kHz). Onboard DSP allows users access to Aphex audio processing, including a compressor, noise gate, two-step high-pass filter, and Aural Exciter and Big Bottom effects.
Accessible via Røde's free companion apps, Røde Central and Røde Connect, there are two different processing modes available – the VoxLab editor with simple controls for Depth, Sparkle and Punch, and an advanced editor offering control over every parameter for fine-tuned processing. Users can connect up to eight NT1 5th Generation microphones to a single computer for multitrack recording, even on Windows operating systems using Røde's custom ASIO driver.
The HF6 capsule is precision manufactured to sub-micron tolerances, and is internally shock-mounted to minimise pickup of external vibrations. The body is machined from aluminium and is available in black or silver, with high-grade finishes that are extremely resistant to scuffs and scratches.
The NT1 5th Generation comes with a studio-grade shockmount and pop filter as well as a high-quality XLR and USB cable.
More: https://rode.com/en/microphones/studio-condenser/nt1-5th-generation