Dark Matter has launched the Sentry Streaming Microphone for gaming, conferencing, and content creation applications.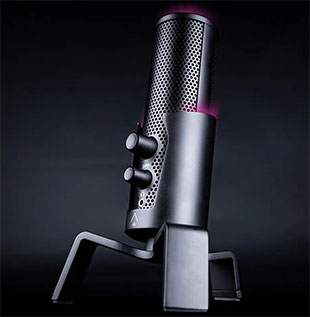 The Dark Matter Sentry Streaming Microphone features four pickup/polar patterns, chosen to suit different recording conditions. The button on the top of the casing instantly switches the pattern, while LEDs visually indicate the active pickup areas. A single USB-C cable connects the mic to PC, and provides power as well as the digital audio connection. The metal housing provides long-term durability and is visually appealing, especially when using the LED accent lighting.
The housing features customisable, multicolor LED accent lighting, which further enhances the visual appeal. Options include pink, yellow, white, blue and green accent colours, or these can be turned off.
A standard threaded mount point on the bottom of the Sentry allows use with any standard mic stand or to the included adjustable spider mount for desktop use.
Key features:
Back electret condenser microphone.
Powered by the USB 2.0 connection.
Frequency Response: 20Hz-20kHz.
Sensitivity: -36dB ±2dB (0dB=1V/Pa at 1kHz).
Maximum SPL: 130dB.
Microphone Gain: -12dB, 12dB maximum.
Output Impedance: 32Ω.
Sampling Rate: up to 96kHz.
Bit Depth:24 bits.
Black metal housing with customisable LED accent lighting.
Cardioid, stereo, bidirectional and omni polar patterns.
Universal threaded mounting point.
Removal and adjustable spider mount for desktop use.
The Sentry Streaming Microphone ships with a stand, stand screw, USB cable and user manual.
More: www.monoprice.com