Røde has announced the NT-USB+ professional-grade USB microphone for musicians, podcasters, streamers and recording professionals. Based on the NT-USB released in 2014, the NT-USB shares the same form factor and sound quality, and adds a number of enhancements.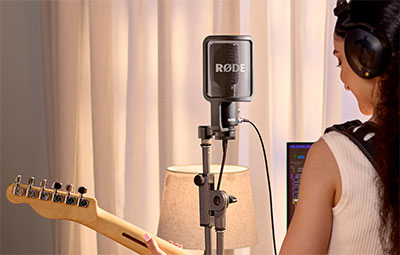 The NT-USB+ features a studio-grade condenser capsule with a full frequency response and tight cardioid polar pattern for clear, focused audio, and is suited to vocals, speech, acoustic guitar and other instruments. It features enhanced circuitry, with Røde's ultra-low-noise, high-gain Revolution Preamp technology –introduced with the RødeCaster Pro II – as well as upgraded 48kHz, 24-bit analogue A/D conversion.
It also features internal DSP, which allows users to apply advanced Aphex processing to their audio. This includes a high-pass filter for cutting out low-end rumble, a noise gate for eliminating background noise, a compressor for delivering punchy and balanced sound, and the Aural Exciter and Big Bottom effects.
This studio-quality processing can be activated via the companion app Røde Central – available for desktop and mobile – for use with any other software or application. It is also available in Røde's free podcasting and streaming software, Røde Connect.
The NT-USB+ features a class-compliant USB-C output that is plug-and-play compatible with Mac and Windows computers; it is also fully compatible with any Android or iOS smartphone or tablet, making it an excellent portable recording solution.
The mic comes with a professional pop filter for minimising plosives, as well as a tripod mount for positioning on a desktop. It also features a zero-latency headphone output for monitoring audio with no distracting echo or delay, complete with level and monitor mix controls.
'The original NT-USB was an instant success when it launched almost a decade ago, setting a lofty standard for studio-quality USB microphones,' claims Røde CEO Damien Wilson. 'With the NT-USB+, we are setting a new standard. We have kept the form factor and functionality that made the original such a success and introduced several new features, integrating cutting-edge technology for the next wave of creators. Plug-and-play USB audio has never sounded this good.'
More: www.rode.com