A replacement for the discontinued BV-1, Avantone Pro has announced the BV-1 MkII large-diaphragm tube condenser microphone.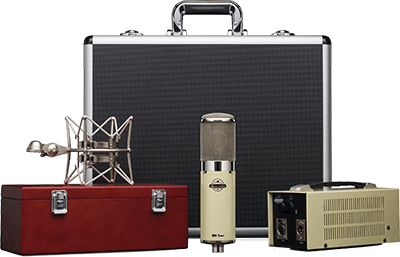 Based on a 'spare-no-expense' approach to design, the mic uses components chosen for their quality including capacitors sourced from Solen in France, EPCOS and WIMA in Germany, Elna and Nichicon in Japan, and Kyocera in the US, commissioning custom capacitors from some..
The BV-1 MkII also features an output transformer custom-designed by Californian company CineMag – originally noted for tape heads for cinema before moving into in-house manufacturing of audio transformers and inductors – as well as a handpicked, edge-terminated 34mm (AKG) CK12-style capsule. The proximity effect lends presented by the capsule can add both body and a sense of presence to any vocal take.
The mic also comes with a suite of all the accessories, including a power supply of similar 'spare-no-expense' standing, together with an ultra-high-quality connecting cable custom-made by Sommer Cable Germany. Avantone Pro provides a hard-shell case to keep everything together, including a shockmount to hold the microphone and a pop filter and protect the wood presentation box that stores treasured microphone itself.
The BV-1 MkII is available through Avantone Pro's US dealers at a MAP (Minimum Advertised Price) of US$1,099. Its European SSP (Suggested Selling Price) is €1,099 excluding VAT.
More: www.avantonepro.com