Caveman Audio has extended accessibility to its AP1 Acoustic Preamp to acoustic guitar players with the launch of the AP1 Compact, retaining its tone but in a significantly smaller footprint.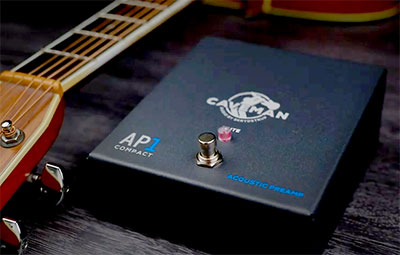 The purpose of the AP1 Compact is not to serve as an effects pedal, but to be an always-on component in the signal chain. 'I am extremely pleased that we succeeded with shrinking our acoustic preamp design without introducing any sonic compromises whatsoever,' says Caveman Audio founder and Head Engineer, Steen Skrydstrup. 'In fact, more than anything AP1 Compact is all about tone.
'In order to arrive at such a small footprint compared to the original AP1 Acoustic Preamp, we removed the optional wireless input and went for an external power supply, but the core functionality such as Amp Out, Tuner Out and Mute for silent tuning remains. And, most important of all, the internal circuit delivers the exact same tonal bliss that so many acoustic players have already become addicted to.'
Caveman Audio acknoledges that preamp design is not the only component capable of enhancing the fundamental sound of an acoustic guitar audio signal, and has also focused attention on suppressing noise and avoiding impedance mismatches in the electronic design that surrounds the preamp circuit – which includes transformer-balanced DI output and unique RFI protection.
The AP1 Compact is housed in a road-ready, zinc-plated steel case.