Røde has released a further update for the Wireless Go II wireless microphone system, adding features that are promised to 'greatly enhance the user experience' with the Røde Central companion app.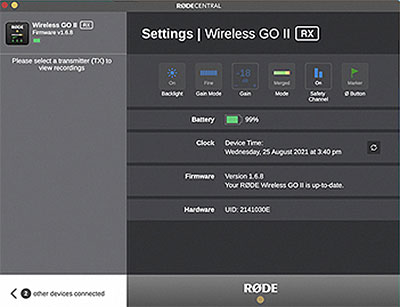 Røde Central allows users to access onboard recordings, as well as unlock advanced features and configure their device anywhere. The software has been upgraded to deliver a more streamlined workflow for users, with better file management and recording navigation and export.
New features:
Batch export allows simultaneous export of multiple recording files.
Sections of recordings can be exported individually via manual selection.
Markers manually dropped in a recording are now indexed in a drop-down menu.
Colour-coded markers differentiate between dropout markers and user markers.
Dropouts occurring within 10s of each other displayed as a 'dropout region'.
Jump-to Marker buttons help locate and export dropouts, dropout regions and user markers.
Names of recordings can now be manually edited in Røde Central.
Improved recording navigation users to jump to a region rather than having to scrub through the whole file.
A zoom function has been added to the main recording waveform.
More: www.rode.com/software