Røde has added the Lavalier II microphone to its line-up of compact wearable microphones.
Aimed at demanding audio and video applications, the low-profile design claims to offer 'ultimate performance' for applications spanning broadcast and filmmaking to all kinds of content creation.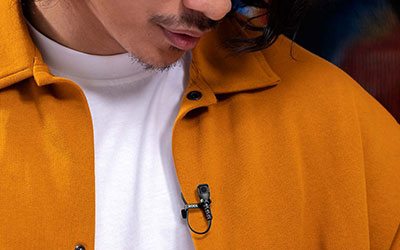 The Lavalier II features a 'revolutionary' low-profile through capsule technology and a form factor that allows it to sit flush against clothing and other mounting surfaces. This makes it discreet in use, giving users more freedom and versatility when miking themselves or talent. It also features an mounting clip that is ultra-compact, and a flat cable that is neat and unobtrusive.
The Lavalier II delivers broadcast-grade sound suitable for a range of recording applications. It has a very flat frequency response and will capture rich, detailed audio with incredibly low noise. Its omnidirectional polar pattern picks up sound cleanly from all directions, easing demand on placement. It pairs with a wide variety of audio devices, including the Røde Wireless Go II and newly released AI-Micro, and features a 3.5mm locking connector for use with professional wireless microphone systems.
The Lavalier II comes with a premium accessory kit that includes a high-quality pop filter and mini furry windshield for recording outdoors, compact mounting clip (which includes easy cable management slots), a set of coloured identification rings for keeping track of microphones in multi-mic set-ups, and a zip case for keeping the mic and accessories safe, neat and organised.
More: www.rode.com