German manufacturer ESI Audiotechnik has launched the cosMik uCast USB microphone along with software bundle for podcasters, YouTubers and Twitch streamers.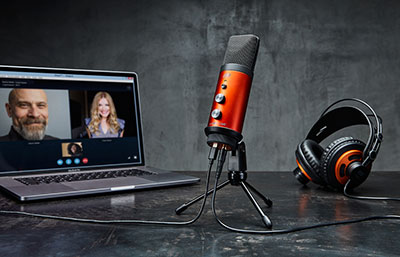 The bundle comprises ESI's new cardioid condenser USB-microphone, set-up accessories, a recording bundle, and a feature to integrate external sound sources. The mic supports USB-C connectivity with headphone monitoring, and buttons to adjust input gain and output level. The mute button mutes voice while passing computer audio.
With the accompanying stand, the microphone can be placed on a table and connected to the computer via one of the included USB cables (USB 2.0 and USB-C, 2m each).
cosMik uCast comes with a software package of recording programs. Windows users can also make use of DirectWire technology, which allows external sound sources (music, interviews or effects such as applause or laughter) to be integrated into a stream. The software package includes WaveLab LE, Cubasis LE, Bitwig Studio 8-Track and inTone 2 ESI Edition by Audified.
Currently cosMik uCast is claimed to be the only available USB microphone to offer a high-quality ASIO driver, based on ESI's own EWDM technology. This ensures ultra-low latency and is also the basis for the DirectWire feature, which is included with ESI hardware.