Austrian Audio has announced the first of a new line of instrument microphones for studio and on stage – the CC8 small-diaphragm mic uses Austrian Audio's new OCC7 condenser capsule, based on the CK1. According to the manufacturer, 'the CC8 sounds natural and open and never becomes harsh or spiky, even at extreme volumes. The mids and highs are silky smooth, never exaggerated.'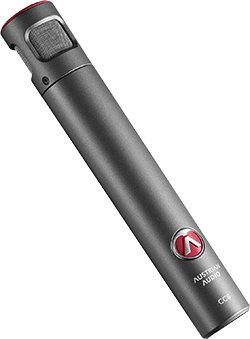 The CC8 capsule's 3µm gold-coated polyethylene napthalate (PEN) diaphragm reckons to be more robust than conventional mylar alternatives. The OCC7's filter fabric claims a constant broadband cancellation, resulting in 'outstanding cardioid characteristics' with high attenuation at the sides and rear.
With transformerless output, the CC8 can handle extremely high sound pressure levels of up to 156dB SPL without distortion. Combined with a very low self-noise of 16dB SPL(A), this results in an exceptional dynamic range. A switchable attenuator (0dB, -10dB and -20dB) allows the microphone can be positioned very close to loud sound sources such as trumpets without fear of distortion. Rumble and impact noise are effectively eliminated with the switchable high-pass filter (60Hz, 120Hz second order).
The CC8's small dimensions allow targeted positioning even in tight and difficult places, both in the studio and on stage.
The Austrian Audio CC8 is hand-built in Vienna. Before leaving the factory, each microphone is measured and tuned (in our special in-house anechoic chamber) to a maximum tolerance of only ±0.5dB sensitivity at 1kHz. This means that any CC8 can be match-paired with any other, regardless of their production dates.
Available in Europe in October 2021, in the US and Asia in November 2021.
More: https://austrian.audio