The new Peluso P-47 SS is a large-diaphragm condenser microphone styled after the Neumann U47.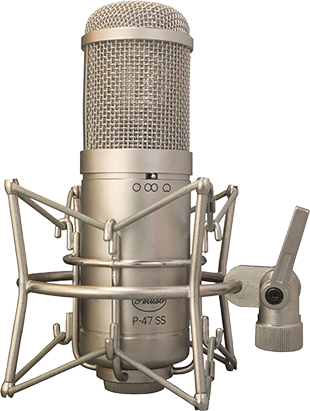 A solid-state gain stage replaces the U47's steel vacuum tube with a FET, providing a significantly lower noise floor and cleaner sound overall. The P-47 SS's wide dynamic range is as capable of capturing subtle intricate detail as it is a crisp loud kick drum. It handles transients with a very fast and detailed response – for guitar and vocal work.
The classic single back plate dual-diaphragm condenser capsule provides a unique bell shaped proximity effect. This can provide low-end enhancement, for enhancing for broadcast vocals. An onboard 75Hz roll-off filter will temper this proximity effect when not desired.
The Peluso P-47 SS comes as a complete package including the P-47 SS microphone in a velvet bag, suspension mount, clip mount and foam wind screen in a sturdy flight case.
Key specifications:
Condenser pressure gradient mic.
34mm capsule.
75Hz roll-off filter switch.
-10dB and -20dB pads.
Frequency response: 20Hz-22kHz.
Polar patterns: cardioid, omni and Fig.8.
Sensitivity: 12.5mV/Pa.
Impedance:200Ω.
Equivalent noise: 9dB(A).
Phantom 48V ±4V.
Current consumption: <4.0mA.
Size: 59.5mm x 196mm.
Heavy-duty brass body.
Weight: 602g.
The Peluso P-47 SS is distributed in the UK by KMR Audio. Matched pairs available on request. It is priced at £1149 including VAT (£957.50 ex-VAT) and is available now.